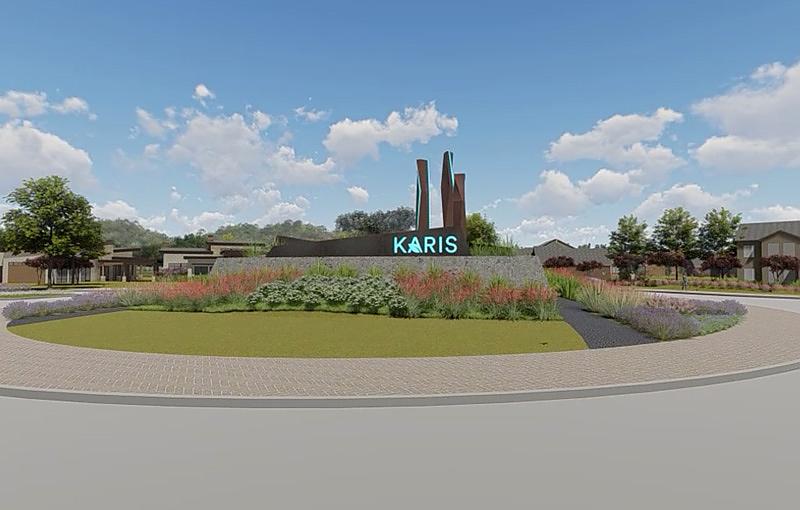 05/08/2023
Home Sales Begin in Karis in Crowley
Home sales have begun in Karis, a 565-acre residential development in Crowley, TX, by The Nehemiah Company.
Highland Homes, Village Homes and Cadence Homes have begun pre-sales in the community, which is planned for 2,025 homes. Cadence Homes is offering townhome designs priced from the $279s while Village Homes is building on 35-foot homesites starting in the $389s and Highland Homes has floor plans designed for 40-foot homesites. Pricing is from the $398s.
Starting sales soon in the community will be David Weekley Homes priced from the $423s and Chesmar Homes as well. Highland Homes is nearing completion of Karis' first model home, with an anticipated opening date of mid May. Additional model homes are expected to open in late second quarter. There are 325 homesites in this first phase.
Parks Update
"We're excited to open this first phase of Karis, not just seeing the start of home sales, but also the completion of several community parks that are part of our live-play vision for Karis," said Robert Kembel, President of The Nehemiah Company.
Parks planned for the community's first phase include Gateway Park near the community's main entrance; the fitness-themed Bolden Park; Bluebonnet Park with an event lawn, covered grill, café-style seating and a playground; Sunflower Park offering a climbing tower, swings, spinners, event lawn and seating; and Monarch Park, a linear butterfly park.
A lifestyle center with an on-site lifestyle director who will maintain a busy calendar of resident events, a Crowley ISD elementary school with Montessori programming, and miles of trails that will wind through Karis are also planned for the community.
John Jordan, Project Manager for Karis, says future phases will include additional amenities.
"Each new phase will offer additional outdoor amenities, and our trail system will connect with the Crowley park system," he said.
Karis is situated between Interstate 35W and Chisolm Trail Parkway south of downtown Fort Worth and just north of downtown Crowley.
Development of Karis will follow the same community-oriented and rooted-in-nature design concepts that are evident in Viridian, an Arlington community that is managed by The Nehemiah Company.
Also in Arlington, The Nehemiah Company is developing a luxury apartment community, Arlington Commons, along Lamar Blvd, offering 1,400 homes in four phases.
About The Nehemiah Company
The Nehemiah Company partners with local city and county governments in development of substantial, infill locations primarily focusing on housing — master-planned communities, multifamily developments and single-family rental communities. We design communities that carefully merge public pathways and private residences, as well as build parks and common spaces that foster pedestrian identity, resident engagement, and minimize automobile impact. Our goal is to assist cities and counties in building the most diverse and highest quality environments for their people in the United States, without gates. We consider it a privilege and are grateful the cities and counties trust us with this crucial role. The Nehemiah Company is developing the luxury apartment community, Arlington Commons, and manages the Audubon International Certified Gold Signature Sanctuary master-planned community, Viridian, both in Arlington, in addition to multiple single-family rental communities across DFW and San Antonio. Learn more about award-winning developer, The Nehemiah Company at https://www.thenehemiahcompany.com.