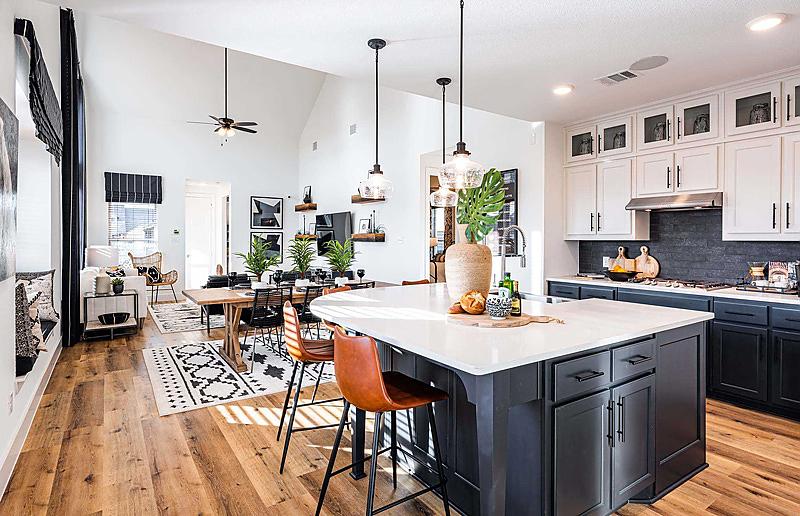 02/23/2023
Highland Homes Now Pre-selling Homes in Crowley, TX
Highland Homes is already pre-selling single-family homes in Karis' first neighborhoods. Floor plans specifically curated for the Karis lifestyle start from 1,900-2,400 square feet and three to five bedrooms with two-story options. They are offering homes on 40-foot homesites starting from $398s in Crowley, TX.
Founded in 1985 by Rod Sanders and Jean Ann Brock, a brother and sister team, their innovative approach led them to sell 13 homes in their first month of operation during one of the most challenging real estate markets the nation has seen to date. Now, Highland Homes builds over 3,000 homes a year.
What Makes Highland Homes Different in Karis' First Neighborhoods?
Building new homes on 40' lots in Karis' first neighborhoods makes them unique in this community. These homes will have spacious interiors and low maintenance yards giving homeowners more opportunity to enjoy all the open spaces, parks, and trail system that will cover well over 3 miles! Highland Homes is also committed to the contract price. This commitment is great news for homebuilders since, as the market changes or materials increase in cost, Highland Homes will not charge homeowners more than the price of the contract.
How Highland Homes Builds Trust with You, The Homeowner
At Highland Homes, they are committed to making the homebuilding process more transparent. With their award-winning customer service, extremely livable floorplans, high energy standards, superior construction, and so much more, Highland Homes creates spaces that homeowners love living in years down the road. They even make it easy to compare some of their features with that of other new home builders.
Discover High-Quality Homes in Karis
Highland Homes provide the best possible homebuilding and homebuying experience for homeowners. For those looking to buy a new house just south of Fort Worth, Karis is more than a neighborhood; it's small-town Texas living on a big scale. Contact Highland Homes to reserve your lot in the first neighborhoods, explore their floor plans and how to make one of their 40' lots your dream home.