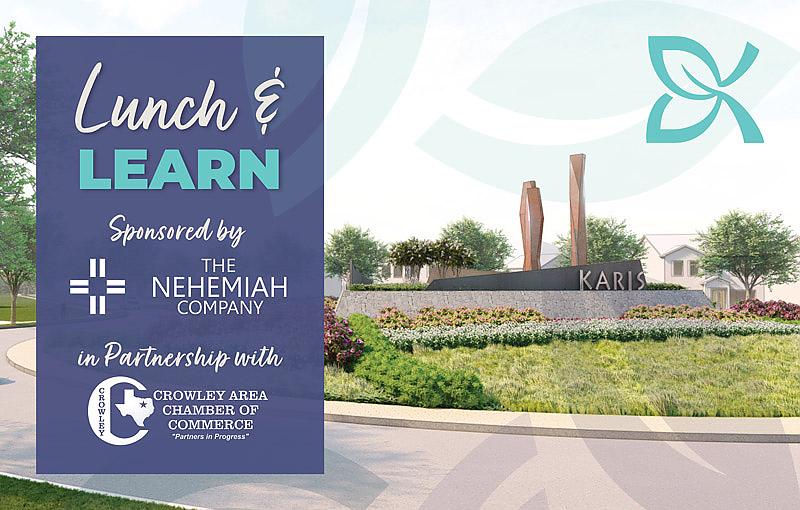 06/16/2022
The Nehemiah Company and the Crowley Chamber of Commerce Partnered to Present Development Updates
Robert Kembel, founding partner of The Nehemiah Company, was invited to the Crowley Chamber of Commerce's June Lunch & Learn to speak with local businesses and community members about Karis' development updates. He shared updates on construction timelines for the first neighborhoods, builders who will be selling homes in the first phase, updates on parks and trails to come, and answered any questions from the group.
The Nehemiah Company Values
Since the company started in 2012, The Nehemiah Company has strived to create an environment where people like to work and focus on creating hopeful, resilient, and sustainable communities. At The Nehemiah Company, their goal is to go where people want them and build communities not created around income.
Success for The Nehemiah Company means that 10 years from now, they are deep in the community that adds value to people's lives and not just selling real estate. They do this by getting embedded in communities where they keep getting opportunities to help them grow.
Karis' First Neighborhoods
The first neighborhoods being constructed in Karis mix the lot sizes to commingle the neighborhoods. So, you'll find townhomes across the street from custom-built homes of various lot sizes. Karis is going to be a high-density community that makes it easy to move around and within the community without changing the quality of life for the residents.
Creating a porch community encourages people to be outside and get to know their neighbors. Alleys behind homes keep cars off your visual queue and also encourage people to parallel park on both sides of the street. Having people park on the sides of the street creates natural speed bumps where cars have to slow down and pull over to let someone pass. So, cars can't zoom through the neighborhoods.
Karis Builders
Partnering with privately held builders helps to make sure everyone in Karis gets the same quality of life, whether they are in a townhome or a custom-built home. Homebuyers will have opportunities to build with one of these top DFW homebuilders on a variety of lot sizes.
The Nehemiah Company wants to create a great porch community in Karis with this team of award-winning builders.
The First Phase
The first phase of Karis is underway, and paving has already started since they've found all the rock shelves in Crowley! After completing the paving, it's time to develop the open spaces for landscaping, parks, and trail system in Karis. This is in conjunction with the partnership The Nehemiah Company has with the city of Crowley.
Model Homes
Karis is expecting to break ground on the first model homes in October 2022 (subject to change without notice). More details are coming soon. These model homes will put you minutes away from Karis' open spaces, parks, and trail system.
Parks
Pocket parks are planned throughout Karis and embedded in the first phase. When the weather cools down, parks and landscaping throughout Karis will begin using natural landscaping and grasses. The renderings made of the parks are the end look for them, however, it will take a couple of seasons of growth to achieve the end look.
Trails
The trail system planned for Karis is to create trail connectivity for healing in nature without having to get in a car. The Karis trail system expects their big open spaces will connect and go along with the Crowley city plans.
Schools
The Nehemiah Company plans to deliver a community integrated with the Crowley ISD with Karis. An on-site elementary school is scheduled to open in Karis in 2024.
What's Near Karis
Residing in Crowley, TX, within Tarrant County puts Karis near everything the Metroplex has to offer to combine easy small-town Texas living and big-city convenience. Karis is located near the renovated Crowley Main Street boulevard and Crowley Recreation Center while being only minutes from downtown Crowley and Burleson. Even Industrial Boulevard right outside of Karis is getting improvements!
Discover More Karis Updates
Karis is a place where people can thrive. The award-winning developer, The Nehemiah Company, is developing it so Karis residents will be able to enjoy a home where life's pace is a little slower, roots run a little deeper, and neighbors can become friends.
Get all the latest updates about the great things coming to Karis in our newsletter as soon as they are available.